OUR PRODUCTION PROCESS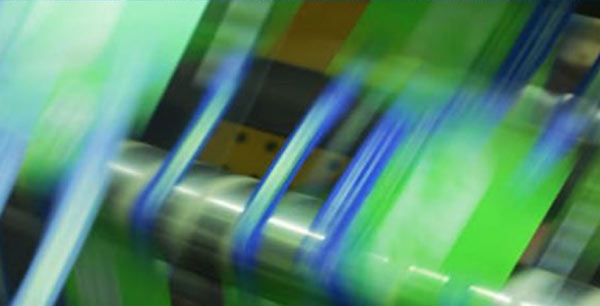 Flexoprint
Our printing is carried out on two 8-colours flexography machines; the first is fitted with "Flexoprint-make" gear and the second is a last-generation "Schiavi" fearless-make machine. Both machines are equipped with automatic register , color memory and Barcode /Eancode line control (The control is later repeated manually by the operator).
Upon request we provide an optional 8/10 colors rotogravure machine.
Cutting
The company has 3 cutting machines: in order to guarantee very high cutting accuracy the operation is not performed in line with the printing but at a later stage by the means of cutters that can control the winding tension and strain, if any, weight and linear length of the spools.
Lamination perforation
We have a lamination machine that uses solvent less glue and we recently purchased a new laser hole puncher (with a minimum diameter of 50my) that allows us to adjust film permeability.
Laboratory
Our in-house laboratory is equipped with the most advanced technology and is able to run the following testes:
conformity of inbound material: friction coefficient, crown treatment,thinckness, sealing strength, transparency, etc.
Sample controls are run on approximately 10% of the material;
conformity of output material: same tests as above, though the latter are run in every primary spool; in addition we test the residual solvent on the colors we use for printing.
CERTIFICATION
BRC – Global Standard Issue 1
This product certification guarantees the standardization of quality, safety and operational criteria. It ensure that Alvapack Broup fulfills its legal obligation and provides protection for the end consumer through HACCP (Hazard Analysis and Critical Control Point) guidelines.
Traceability
Traceability of every spool produced is ensured by 2 labels: one in the spindle and another on gthe outside, both bearing the following data:
Purchase order confirmation and date
Design/reference
Code EAN (when present)
Width
Thickness
Quantity expressed in linear meters
Core diameter
Lot number
Mother reel number
Daughter reel progressive number
Thanks to this data, Alvapack is capable of tracing every spool back to the original extruded polypropylene granules.
Hygiene
Discipline and hygiene is key to our company.
All operators are equipped with latex gloves, suitable clothes and hair cap.
Raw material
We constantly keep a minimum of 150 tons of raw material on our stock (anti-fog polypropylene film).